With increasing requirements for open sharing of research outputs from funders, governments, and research communities, comes the need to ensure searching and indexing of research can meet these demands.

The COS team continually engages with users and stakeholders to understand the ways collaborators, data consumers, and funders need to search and browse the corpus of public research output on OSF. Years of feedback were integrated with new user testing, which focused on discovery features that would provide the most value for researchers. Further analysis determined how users would expect the features to work and how results would be interpreted. Finally, we overlapped this feedback with other stakeholder needs, like funder programs and institutional administrators that are working with research communities to more effectively track and report research plans and results.
However, more content is seldom what researchers are seeking; they want the right content. The reality is that increased throughput is only valuable if researchers have the tools to find, interpret, and use the outputs that are valuable to them. They need ways to narrow their scope of inquiry to the right discipline, resource type, or even the funders and institutions that support research.

The result of the community and stakeholder input is a new discovery solution on OSF with a suite of brand new search features, making it easier and faster to find OSF content that meets their precise needs. These same features provide unique insights for institutional administrators, funder program officers, and librarians, including more ways to find relevant funding opportunities and interdisciplinary or inter-institutional collaborations. Most critically the new discovery features, in addition to the robust metadata enabled on OSF, enables researchers and research institutions to meet funder and publisher data sharing commitments.

Continue reading to learn more about the new OSF search features, and how they can help you find exactly the resources you need while making your own research more discoverable.

Search Simplified
Key to success with open and transparent research is have tools and workflows that enable it across the lifecycle. Over 600,000 researchers utilize over 12 million public registrations, projects, files, and preprints for research planning, management, and sharing. OSF Search is the discovery infrastructure that surfaces all of these public objects so that they can be cited, reused, and reproduced.

OSF Search now provides results for registrations, preprints, projects (and related components), files, and users in one easy to use interface. In each search result, you will find key metadata to help you determine if these are the results you are looking for. There is also a new "Context" section in each result, which will provide a preview of the metadata fields that reference your search term. For example, a search for "climate change" will return all objects with "climate change" in the title, abstract, subjects, registration responses, wiki, contributors, institutions, funders, and copyright holders.
In combination with a variety of Persistent Identifiers (PIDs) implemented across the OSF, users and other data consumers can easily discover the content that is relevant to them while moving past results that are not helpful. For example, the funder facet utilizes the funder metadata field on OSF objects, which is powered by the Crossref Funder Registry. For our institutional members, we include their Research Organization Registry (ROR) identifier in the metadata of research shared by their affiliates. That means there is no misidentification or confusion due to a funder or institutional name being spelled differently or with a previous name; the PIDs are permanent and unique to them.

More Time for Research, Less Administrative Burden
Funders, institutions, government agencies, and more key research stakeholders are making their open research expectations increasingly clear, like the updated NIH data management and sharing policies that went into effect in January this year. OSF users have all of the tools that they need to meet and exceed these expectations, and their content is easily findable within the OSF corpus through robust metadata and enhanced discovery facets.

These facets include the funder that supported the research, the type of resource (using the Datacite community standard ontology), institutional affiliations (using ROR ids), year published, and available relationships like related data, code, papers, and more.

For example, OSF users can search for research on hearing loss…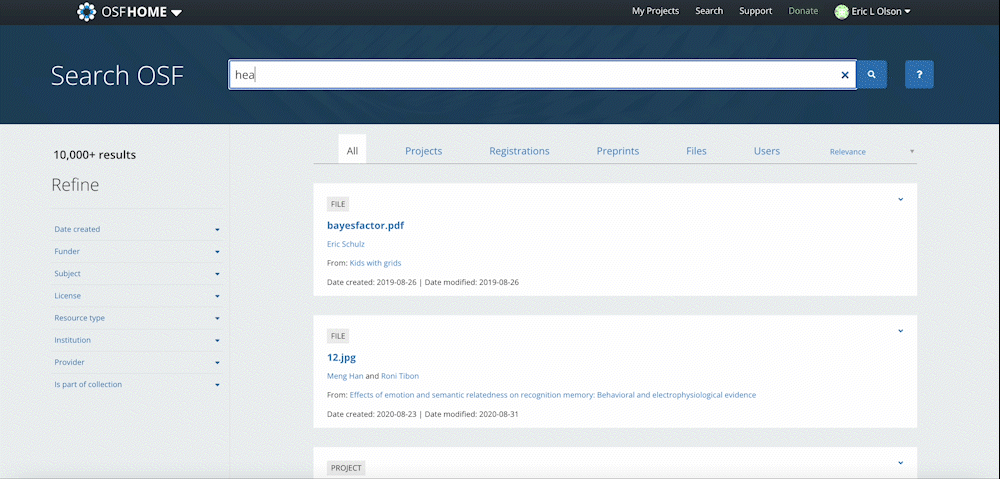 isolate only OSF Projects…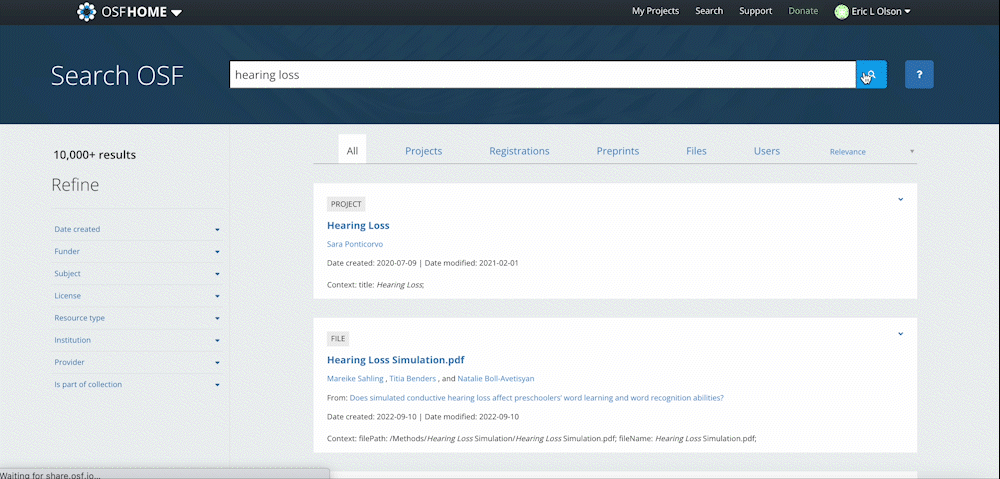 and find studies that are specifically funded by National Institutes of Health…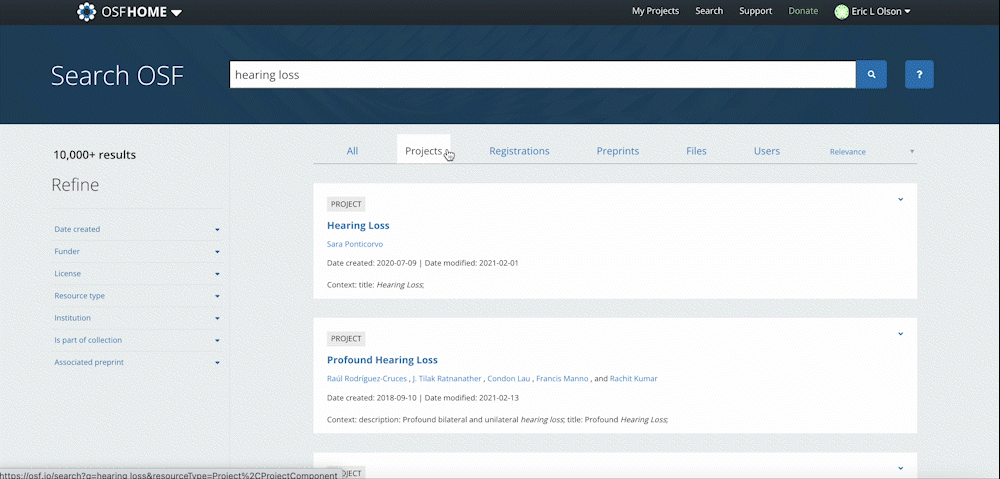 that contain datasets.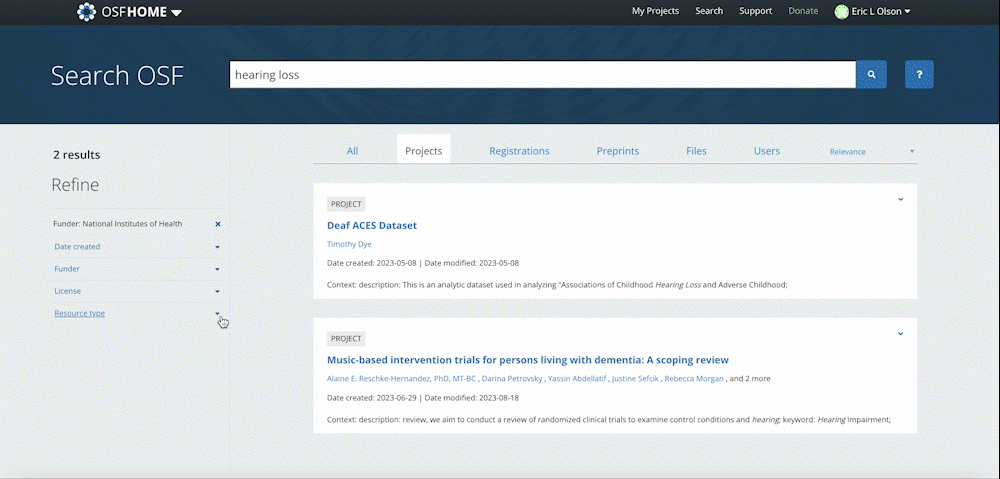 There are millions of combinations available, which will only grow more effective as researchers continue to add robust metadata to their work on OSF. The more metadata you use to describe your research, the more likely it will be discovered by your peers that are searching for planned and completed studies in your field.
Enhanced metadata also makes reporting compliance faster and easier. Indicating the funders that have supported your research on your OSF data enables a simple search for you, your institution, and your funder to indicate that you are meeting data sharing policy requirements, while institutional affiliations simplify output metrics and reporting for research departments and administrators.


The Continuing Discovery Journey
OSF features are chosen and designed specifically to meet researchers where their needs are most critical, and researchers need increasingly robust ways to describe their research, make it discoverable, and ensure that they are complying with open practice requirements. The improved OSF Search makes it easier to make your work more findable and accessible, while also making the discovery phase of the research lifecycle faster and more effective.

Over the next few weeks, there will be several events focused on the key aspects of research discovery on the OSF. There will be conversations for three different audiences; researchers, research funders, and research institutions administrators and support. All are welcome to join the discussion. Also over the next month, we will bring the enhanced search features to the OSF Registries, OSF Preprints, and OSF Institutions member discovery pages as well. This is an exciting new way to explore the content presented by some of your favorite organizations and publications. For administrators of these organizations, they can more clearly track the data sharing commitments that members of their community must adhere to as well as signal the depth and breadth of open practices that are ongoing among their stakeholders. We have live conversations about each of our member interfaces once per month, and you can join us by registering here.
This is an exciting step for research findability on the OSF, and we hope that you'll join us on this journey by trying the new features and adding robust metadata to your own work. Metadata and search features will continue to grow and improve, and we would love to hear your requests! Reach out to us at contact@cos.io.