---
This week OSF added a new workflow to start a registration without needing an existing OSF project, making the registration process quick and easy to get started. The new workflow starts with the registration and builds a connected OSF project where you can show and share your work. Using the connected project to continue the research lifecycle provides an easy, connected workflow for showing and sharing study methods, protocols, and analysis, along with the data and reported outcomes.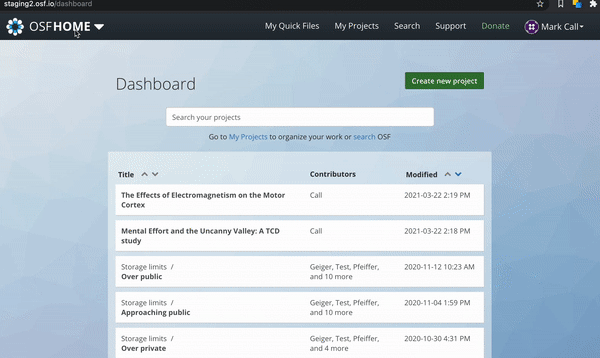 See how to create a new registration without a project here.
Registrations advance the quality and transparency of research, increase the credibility of results, reduce publication bias, and help research teams plan studies before collecting and analyzing data. For rigorous research planning, OSF offers a registration template called preregistration, a practice that helps specify study design and analysis plans in advance of a study.
After creating a registration, researchers can rely on OSF for support throughout the entire research lifecycle through workflows for planning, conducting, reporting and discovering research.
More communities are using registration to improve research rigor and enable robust open policies through the use of transparent and reproducible workflows. To date, thousands of researchers have adopted registrations, adding over 22,000 to OSF in 2020 alone.
The new, streamlined registration process provides more research groups with intuitive workflows to facilitate transparent and open behaviors for their research communities — like the EGAP network that has worked extensively to cultivate transparent and rigorous research in the field of governance and politics.
"The new workflow will allow our community of researchers and evaluation professionals to preregister research designs with fewer steps. We anticipate that this increased efficiency will lower perceived barriers to preregistration, and will help us encourage scholars of governance and politics to increase the rigor and transparency of their work through the practice of registration," says Matthew Lisiecki, the Senior Methods Manager at EGAP.
Learn more about registrations in this help guide, share with your colleagues, or start a registration of your own today. You can also visit cos.io/registries to learn more about supporting your research community with open workflows that empower them with intuitive pathways toward transparent, credible, and discoverable research.
---