Our aim at COS is to change research culture by empowering communities of practice with the tools they need to improve scientific rigor in their fields. Now with our latest community tool Branded Registries, any group—whether a funder, journal, society, or community—can create a customized registry using the OSF Registries infrastructure to aggregate the open and rigorous research within their field or scope.
Preregistrations of study designs and analysis plans reduce publication bias and clarifies confirmatory and exploratory aspects of research by making all studies on a topic discoverable.
Preregistration improves research rigor by making study designs and analysis plans highly discoverable, which also reduces wasted efforts and funding, improves transparency, fosters high-powered, cumulative collaboration, and accelerates scientific progress. By launching a branded registry, communities, publishers, and funders can immediately offer researchers in their field a place to submit a registration, discover existing studies, and start managing their research with the connected OSF infrastructure as a project workspace.
Branded Registries provide communities with the mechanism to set the standards for openness and rigor. To support researchers, branded registries enable customized preregistration templates and workflows to streamline the process for compiling a robust registration for their study with rich metadata descriptions. COS is currently working with several communities to create new registration templates for secondary data analysis, longitudinal studies, systematic reviews, qualitative studies, and pre-clinical research, which we expect to release by the end of 2020 and early 2021.
Now with a pre-acceptance moderation workflow communities can ensure each registry submission meets the community standards and demonstrates rigorous research. A moderator dashboard allows communities to set standards and moderation policies and set role permissions with their moderation teams. An easy moderation workflow allows registry moderators to accept, reject, or withdraw a registration while providing contributors with feedback about their decision through commenting features.
Establishing a branded registry results in: rigorous research that meets community standards, researchers that are supported with efficient workflows for meeting requirements, stakeholders able to trust in best practice compliance, and consumers able to easily discover study designs with confidence to reuse.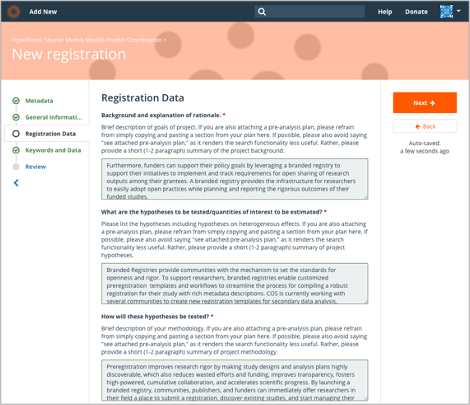 Furthermore, funders can support their policy goals by leveraging a branded registry to support their initiatives to implement and track requirements for open sharing of research outputs among their grantees. A branded registry provides the infrastructure for researchers to easily adopt open practices while planning and reporting the rigorous outcomes of their funded studies.
As OSF Registries continues to support changes to research culture, communities will soon have:
Functionality to moderate registrations in order to curate robust repositories of research, demonstrating publicly the pursuit of research rigor and exposure to findings.
Improved efficiency for researchers with registration submission that eliminates the step of creating an OSF project first.
And to complete the research lifecycle, a function to report the findings of a preregistered study that details the outcomes from the proposed research design and analysis plans to the actual implementation and rationale along with the outcomes.
Take a moment to explore OSF Registries to discover registrations across branded registries and external registry sources.
More research communities are choosing to offer public registries to manage and affiliate materials from their fields for greater visibility and improved rigor. See a Branded Registries demo to learn how a customized registry can support your community's goals for open and rigorous research.
---
Visit cos.io/registries to learn more about Branded Registries, or to connect with our team today.