As policymaking evolves, constructing a strong evidence foundation for decision-making in state government is more crucial than ever. While the logic of "if you build it, they will come" might resonate on baseball fields, when it comes to building a foundation of evidence, proactive steps are necessary to ensure the use of that evidence.

As part of North Carolina's commitment to open science, the Office of State Budget and Management (OSBM) has launched a new State of North Carolina Registry, a public platform for sharing research plans for answering pressing program and policy questions. With this launch, OSBM aims to provide the infrastructure for increasing the reach and use of rigorous evidence by decision-makers.

A Central Hub for Evidence-Building
"We are focused on building capacity across state government to generate and use rigorous evidence to drive policy decisions and accomplish strategic goals," said David Yokum, PhD, Chief Scientist, NC OSBM.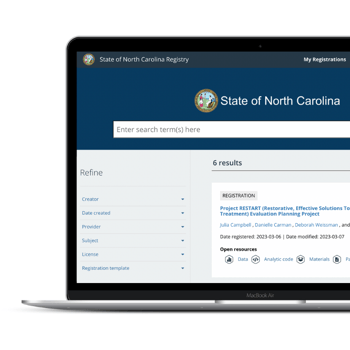 The OSF Registries infrastructure allows researchers to freely share and archive their study designs, analysis plans, data, and outcomes. Preregistration, a subset of the registration process, involves submitting detailed plans for research before it is conducted, promoting transparency and accountability in the scientific process. By becoming an OSF Registries member, agencies like the North Carolina OSBM can curate and create visible collections of preregistered research, fostering a collaborative and organized approach to scholarly information.

The choice to become an OSF Registries member is rooted in the understanding that simply supporting efforts to evaluate government initiatives is insufficient. Establishing this shared platform addresses a critical need, providing policymakers and program managers across the state with a centralized and easily accessible resource for evaluation and research information.

"To increase the likelihood that state leaders will use the findings to inform decisions, we encourage agencies and research partners to document research design plans in a public repository before analysis begins and to share all results," emphasized Dr. Yokum. "OSF Registries makes that possible."

As a centralized platform, OSF Registries facilitates interaction and collaboration between state agencies, researchers, and stakeholders throughout the evidence-building process.


Elevating Credibility Through Open Science
"Publishing detailed analysis plans before results are known improves agency-researcher coordination so the approach aligns with the policy decision context," said Dr. Yokum. "It hedges against unconscious statistical choices that favor a desired result, and the tendency to selectively publish findings with significant positive findings."

Another advantage of this process is that it nurtures engagement with stakeholders right from the inception of research projects about important decision criteria, like how large an effect is sufficient for action, or how much uncertainty is tolerable. By involving stakeholders in the methodology and design phases and publishing those plans in advance, the credibility of results is bolstered regardless of their outcomes. This approach not only ensures decision-makers get the answers they need to ensure effective and efficient programs but also that the findings will be trusted and used to guide action.

By fostering collaboration, transparency, and accountability, North Carolina is poised to lead the way in utilizing rigorous evidence to drive policy decisions and deliver lasting impact to its citizens.