Publishers, funders, and institutions are overwhelmingly pursuing FAIR (Findability, Accessibility, Interoperability, and Reuse) standards, enabling shared content to be findable, accessible, interoperable, and reproducible. OSF is uniquely suited to support FAIR standards across the research lifecycle by facilitating data, results, and preprint sharing as a crucial element of research communication. OSF has always provided a way for scholars to associate files with preprints, collaborations, and research registrations, fully contextualizing their research outputs. In 2022, describing, sharing, and discovering files will be deeper, faster, and broader than ever. Users have already seen some of these changes, with much more to come.
Registration and Project Files Are Faster and More Focused

Materials, code, images, video, audio, and documents form the backbone of transparent research behavior. The OSF enables all of these to be discovered, accessed, and shared through customized directories within one platform, including file storage in multiple regions and through integrations with 11 third party storage providers. With almost 500,000 users, the OSF files services have been stretched to their limits to support hundreds of different use cases. To get a clear understanding of those limits and plan to break through them, we talked to OSF users to better understand the expected and unexpected ways that they have worked with files.

Based on your stories, we have launched a brand new interface that makes working with files on OSF faster and easier. OSF files pages now utilizes a "flat" files directory, much like popular storage providers Google Drive and Dropbox. You can focus on each part of your project or registration directory with a files list that loads near instantly. Features like moving, copying, and downloading files are available in a streamlined toolbar, and are available for independent files, entire folders, or even all files stored within a storage provider. You can also select large groups of files from your list using the brand new range select feature.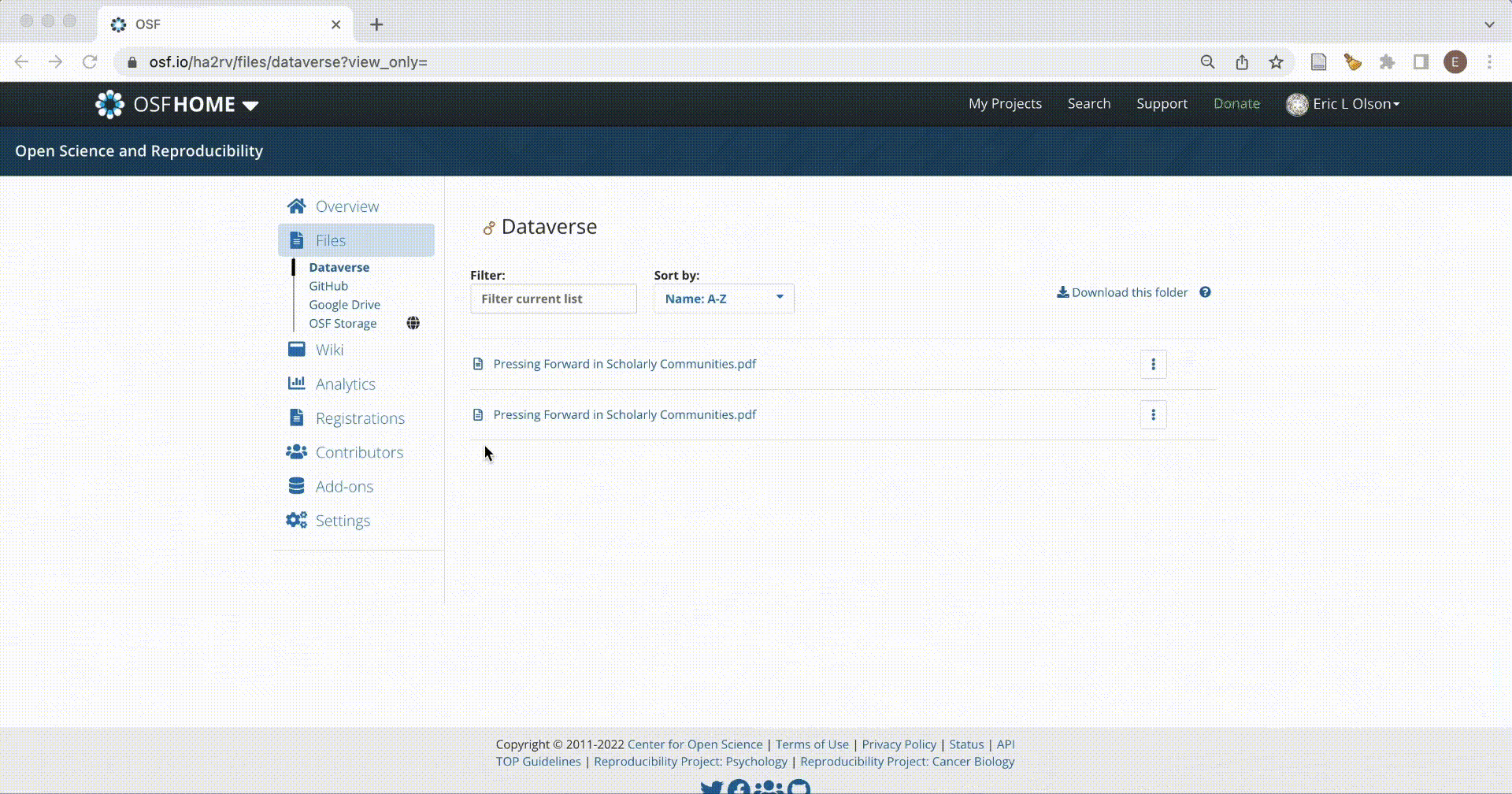 The file viewer has been upgraded as well, providing more screen area for you to display and interact with your files. Download and share features are easy to find, and a new toolbar enables users to quickly tag their files for increased discoverability. The OSF commitment to transparent workflows is still our priority, so the file version history is available in its entirety in the toolbar. Render or download any version of the file in the browser.

Files Metadata and Community Contributions

New interfaces are just the beginning of files upgrades on OSF. This work is the foundation for metadata features at the file level, providing opportunities for you to describe your datasets, images, code, and documents and their unique relationships to your research. All file metadata will be human and machine readable using community-driven standards. This will involve persistent identifiers for the people, places, and things associated with each file, including funding/support information. Access and modify your file's metadata at any time, and use a formatted citation to refer to each specific file in your papers.

OSF supports users and scholarship in many disciplines, and we are learning about all of your metadata needs. We will be working directly with scholarly communities to roll out additional metadata standards that respond directly to your practices and priorities.

Communities and institutions are also leveraging the open-source OSF to support their unique file use cases. New features have already been enabled for file storage providers, like the OneDrive add-on extending to support institutional and enterprise users, and community code contributions will allow for more file types to be rendered within the OSF platform.

Contribute to the Future of Files on the OSF

Our communities enable the success of the OSF through submitting to our open-source code base, institutional support, outstanding feedback, valuable advocacy, and upcoming feature testing. We are thrilled to continue this journey as the features, performance, and utility of files on the OSF grow in the year ahead, and we welcome your feedback and your help. If you would like to directly participate in the development of new features on the OSF, please consider becoming a COS Ambassador or joining the OSF User Research group.