Preliminary research demonstrates that the influenza community sees value in open science behaviors such as preregistration and data sharing. However, respondents to the Open Scholarship Survey believe that their peers hold less favorable views than themselves regarding these same practices, demonstrating a mismatch between researchers' perceptions and beliefs of open science practices in influenza research.
With generous funding from Flu Lab, the Center for Open Science (COS) is recruiting post-graduate, early-career, and mid-career influenza and public health researchers to learn about open science practices, apply them to their work, and promote open science within their communities through the Opening Influenza Research Fellowship.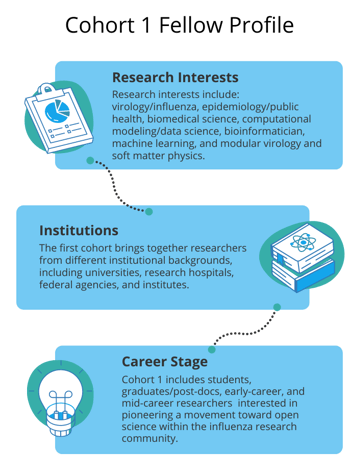 On November 4, 2022, the first cohort of this initiative kicked off with a session focused on the philosophy and motivation behind the open science movement. The first cohort comprises 11 researchers from 3 different countries on 3 continents. In addition to diversity of region, Cohort 1 of the Opening Influenza Research Fellowship also illustrates diversity in research interests, career stage, and institutions.

The open science fellowship will be divided into three cohorts. Members of each cohort will attend three one-hour training sessions covering the philosophy and motivation behind the open science movement as well as important facets of open science, including open data, materials, and code. Cohorts will convene in the following months:
Cohort 1: In progress
Cohort 2: January 2023
Cohort 3: February 2023
COS is currently accepting applications for Cohort 2 and Cohort 3 until November 30, 2022.

As part of the program, Open Science Fellows will:
Receive free training in the fundamentals of open science
Learn how to implement open science practices and conduct more transparent, rigorous, and reproducible research
Exchange ideas with other fellows in your cohort
Repurpose training materials to share your open science knowledge and tools with others, and earn a $2,000 USD award
For more information, visit cos.io/flulab or email flulab@cos.io.