---
OSF works to meet the researcher where they are by integrating the tools they know and trust into their research management workflow on OSF. One of those integrations is OSF add-ons — a way to connect the most commonly used storage Cloud providers directly to your research. OSF currently integrates with Amazon S3, Bitbucket, Box, Dataverse, Dropbox, figshare, GitHub, GitLab, Google Drive, OneDrive, and ownCloud.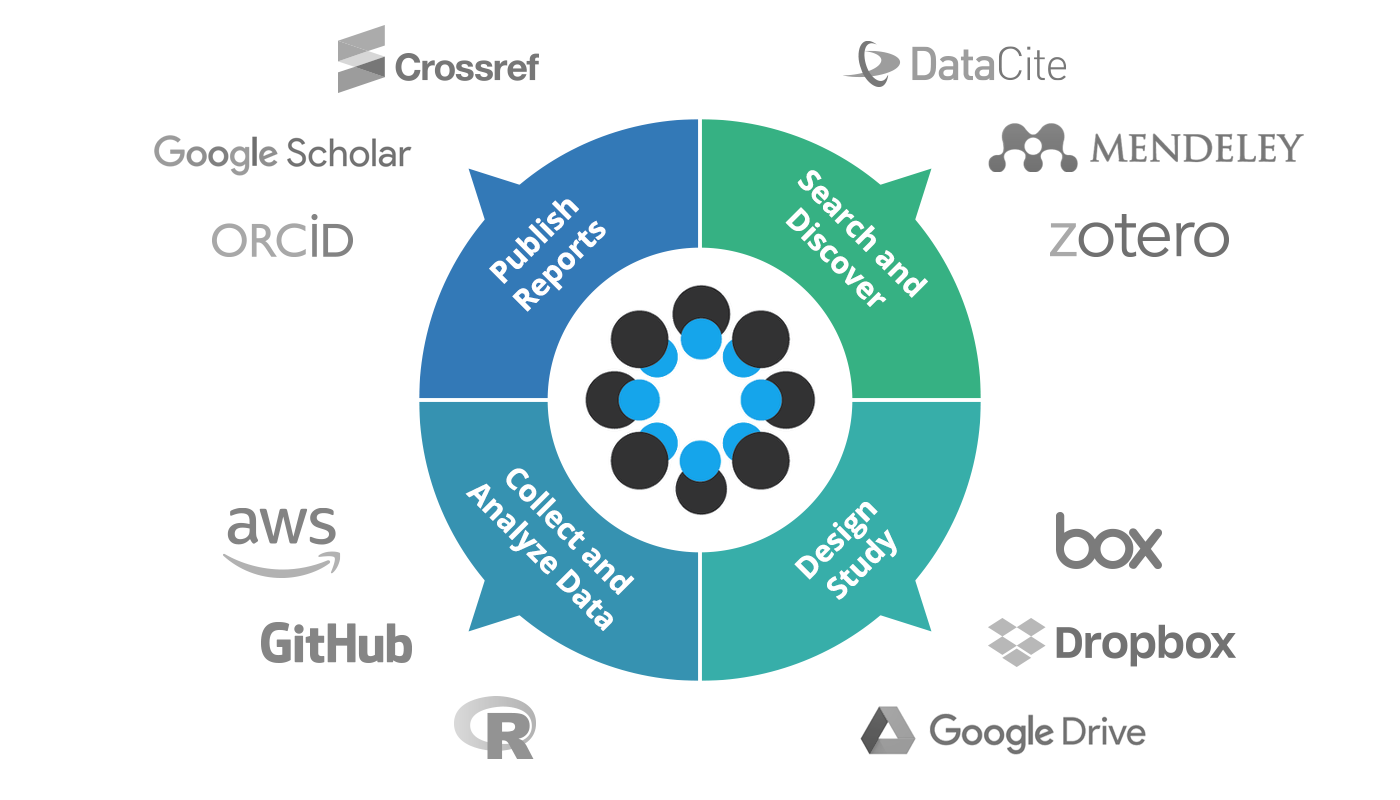 An OSF add-on provides a streamlined storage workflow experience across the entire research lifecycle while giving you and your collaborators a way to manage, access, and share all of your resources in one place. Establishing the connection between Cloud storage providers and your OSF project is simple with Oauth authentication, making it easy to share credentials between platforms.
Integrations with other research tools is also a part of the OSF sustainability model, by creating connections between tools researchers use, rather than building or duplicating effort. We're always working to partner with communities and institutions to develop new storage and tool integrations so that more researchers can effortlessly access their materials from OSF while also lowering the reliance on OSF Storage. Storage is costly, but by distributing data across providers we can make certain COS can dedicate the bulk of its funding to maintaining and improving OSF while ensuring it remains a free public offering.
So how can you integrate your favorite storage provider to start enjoying a seamless data management experience?
Remember that your institution may have a storage option available to you (Google Drive, OneDrive, DropBox, etc.) Browse this list of add-ons to see if your institution's provider is listed. Then, follow the directions for integrating with your institutional provider. If your institution's storage service is not available as an add-on, consider using one of the other 11 add-ons, or you can always reach out to our team at support@osf.io to let us know which storage service your institution offers.
If you're managing data outside of an institutional storage repository, get started by browsing the list of OSF add-ons to see which provider you may already be using or that best suits your needs, as well as the needs of your collaborators. From there, simply follow the instructions for each provider to start integrating your preferred service.
Storage integrations can be connected either globally in user settings, or on a specific project or component on the add-ons tab. To get started quickly, go to an OSF project's Add-ons tab, review the list of add-ons, and click to enable your choice.
Once the preferred add-on is selected, authenticate your account on the storage provider so it has permission to talk to OSF. Then, select the folder or location to connect to the project or component. Now you are sharing those resources with collaborators!
There are also a few important things to consider when integrating a storage add-on with your OSF project. First of all, be aware that individual providers have their own governance for upload limits, storage limits, file renaming, and more. Second, it's important to note that if you migrate files to another storage provider, tags and download counts will be disrupted.
Take a deeper dive into the OSF project interface and storage solutions in the video below.
We recommend connecting a storage integration to your OSF projects to help streamline your data management. OSF integrates with the most commonly used storage providers, but the OSF team is always looking to incorporate researcher tools. If your favorite storage provider isn't in the list of OSF add-ons, please email support@osf.io to let us know which services you'd like to see included, and our team will evaluate.
---