Researchers from around the world use the Open Science Framework (OSF) every day to support their research workflows and practice openness and transparency in their research. As open science continues to grow worldwide, it has become even more critical to reduce barriers for non-English speakers by creating support materials and guides in researchers' native languages to aid them in adopting open science best practices.
Since March 2022, COS has been working with a passionate group of community members to translate OSF guides into their native languages to help onboard research. These support materials and guides allow researchers to more easily incorporate open science practices into their workflows by overcoming any language barriers they might otherwise face. Translators work on a volunteer basis and bring an important understanding of how open science is practiced in different cultures.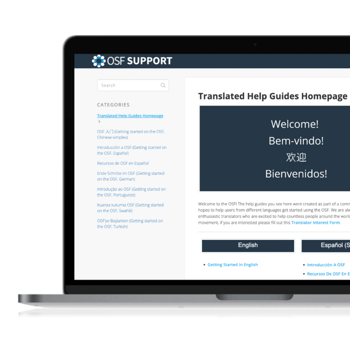 I came to know about the translation project in July. Knowing how wonderful the OSF is, I was eager to assist with this project because I knew this would enable more African researchers to use the resources on the OSF website, increasing the adoption of more open science practices here. Having help guides in your local language makes integrating the OSF into your research routines a lot easier. In my initial conversation with COS, we determined that the most effective strategy was to use an indigenous African language that is spoken across many countries. So, we identified Swahili and Hausa, and I then put together a team of volunteers from Swahili-speaking countries. We finished those translations by the end of September and they are now live on the OSF website. The Hausa translations are currently underway.
What makes the OSF such a valuable open science solution is that it seamlessly incorporates all parts of the workflow of a research study. It represents one platform that enables open methodology, open data, open analysis, preprints, and more. As such, having help guides and other OSF documentation in local languages assists researchers in their transition to an open research workflow. This is a wonderful move that needs as much support as possible.
In addition to Swahili, researchers can access OSF getting started guides in English, Spanish, Portuguese, Chinese-simplified, Turkish, and German. To date, we have focused on creating getting started guides for the OSF, but we plan to develop additional resources in the coming months including videos, blog posts, webinars and much more. The OSF team is also working to improve accessibility through other means, including metadata improvements that would include geographic location and language, and moving into a more modern, updated front-end framework that would include the ability to translate all OSF pages.
---
All of these crucial efforts will take time and resources. Please consider a donation to COS to accelerate our improvements of these key open science assets. Your contribution will help to upgrade our technology capabilities and will enable more coordination between volunteers and COS staff. And, if you are interested in helping your community adopt the OSF in their native language, please fill out the interest form!