Not only do researchers use OSF as a tool to accelerate science by collaborating, managing and sharing their research; they're also stakeholders in its sustainable development through the ability to access, review, interact with, and contribute to OSF's open source code.
By its nature, open source infrastructure is community oriented. The transparent OSF code invites the community of researchers and science stakeholders working to increase rigor and reproducibility to contribute code and ideas to enhance functionality, and benefit from the enhanced security and reliability by their involvement and review throughout the development process. These communities of researchers trust the OSF, and support it by maintaining its alignment to their needs by providing feedback and extending its use through third-party integrations. This continuum is propelled as OSF's community of developers, users, and partners work together toward a shared vision: to accelerate scientific progress.
Together, an inclusive and open technology enables communities to embrace transparent and rigorous research practices with assurance that the infrastructure embodies the same principles of openness, transparency, and inclusion. As such, we prioritize the transparent development of an OSF experience that facilitates sustainability and mitigates technical barriers to the adoption of open and rigorous practices.
A recent example of these priorities in action is the new Central Authentication Service (CAS) update for OSF, a state-of-the-art authentication framework that enhances the OSF login interface and brings a smoother, faster integration experience with external identity providers like ORCID and research institutions.
The new CAS framework upgrade enhances OSF's entire library of authentication services to:
Streamline the login experience for users that rely on single-sign-on authentication between OSF interfaces and third-party or institutional platforms.
Elevate security features that protect against potential vulnerabilities, address threats in a timely manner, and ensure user and partner privacy is never violated.
Improve maintainability and enable OSF to develop outstanding identity management procedures alongside its partners, including privacy regulation compliance policies.
Bypass common database issues that previously impacted sign in speed and performance.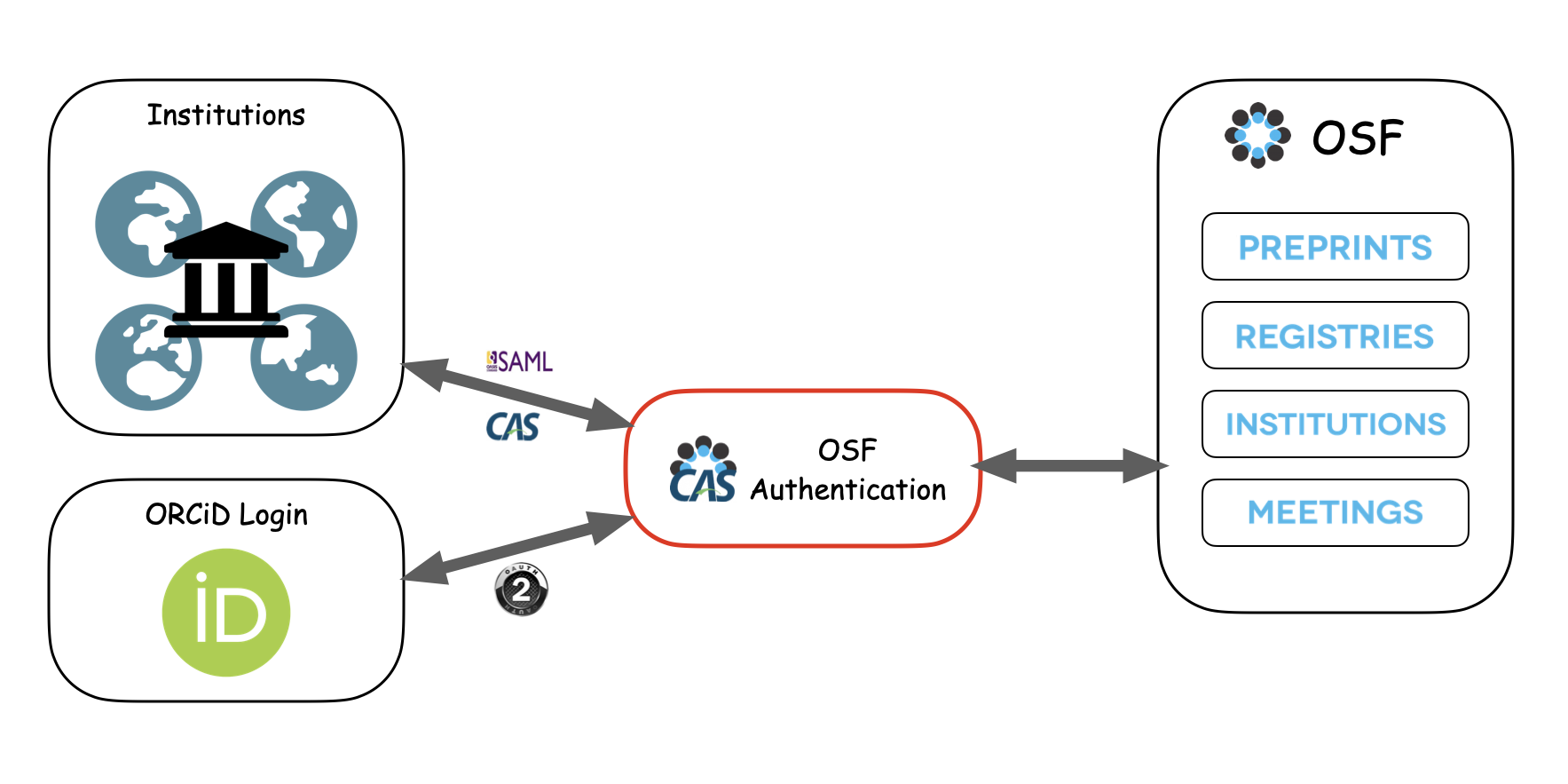 Ongoing infrastructure upgrades like the CAS framework break ground on new functionality for all OSF stakeholders—users, institutional partners, community developers, science stakeholders, and others—and the COS team is thrilled to see the release of another enhancement that invests in the success of community-developed open source infrastructure.
We look forward to sharing the next OSF community infrastructure update with you in a new series of exciting integrations and feature releases coming in 2021.
---
Sustainable open source infrastructure is fundamental to the COS mission to increase the openness, transparency, and reproducibility of research. See our plan for stewarding open scholarship by securing its long-term preservation, access, and reuse.
OSF is free to use, but it's not free to build or maintain. If you have benefitted from OSF, please consider making a personal one-time or recurring donation.