---
Perhaps you're in a scientific field that needs nurtured toward open and reproducible practices but you're not sure how to approach policy and decision makers about implementing these practices. You're aware of the problem(s). You want to see change. But where's the best place to start?
On August 22, 2019, a panel of open policy advocates gathered to discuss the tools and methods they've relied upon to successfully advocate for institutional policy improvements. We invite you to take advantage of the resources and insights they shared in this webinar: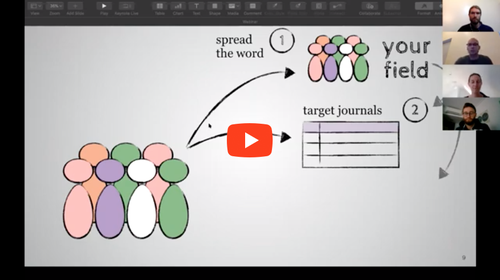 As discussed by the panel, open practice community advocates can unite to more strategically influence scientific institutions (journals, funders, universities, etc.) toward transparency and openness. To start, here are two community-led techniques all policy advocates can participate in and glean from:
Registered Reports Now! — an initiative to influence journals toward open publishing using the Registered Reports publishing format. The project is a centralized effort to contact journals, coordinate the outreach efforts of advocates, record responses from journals, and track the progress of the open publishing landscape.

Take up TOP! — a crowdsourced project in beta testing that promotes the adoption of TOP Guidelines and practices by journals through community-led auditing and scoring tools.
Achieving culture change at your institution can be a challenge, but you don't have to do it alone. Policy advocates across disciplines are working together to foster best practices within their institutions, while contributing to an advanced aggregation of effective resources.


To date, more than 1,000 journals have implemented at least one TOP Guideline. In the case of the Take up TOP! initiative alone, project leaders evaluated several journals within the pain research community (Lee et al., 2018), which led to a better alignment with data sharing policies in one of the leading journals (Keefe et al., 2018).

Change is taking place, and it's being driven forward by community advocates like you.
Looking to learn more about institutional policy improvements in the scientific field? Visit cos.io/top for information about TOP Guidelines, or contact COS Director of Policy Initiatives David Mellor at david@cos.io for further information about implementing transparent and open policies at your institution.
---
Keefe, F. J., Ballantyne, J., Blyth, F., Coghill, R. C., Dickenson, A., Dionne, C. E., … Sluka, K. (2018). Publishing the best basic and applied pain science: Open science and PAIN. Pain, 159(3), 405–406. https://doi.org/10.1097/j.pain.0000000000001166
Lee, H., Lamb, S. E., Bagg, M. K., Toomey, E., Cashin, A. G., & Moseley, G. L. (2018). Reproducible and replicable pain research: A critical review. PAIN, 159(9), 1683. https://doi.org/10.1097/j.pain.0000000000001254