---
The Center for Open Science aims to make science more open, transparent, and reproducible to enhance and accelerate scientific progress and discovery. To do this, we partner with research communities to increase the rigor of research and collectively contribute to a growing network of open and buildable findings across platforms.
Our collaborative open source research infrastructure osf.io was created for such an open exchange of knowledge—by allowing users to preserve and share data, materials, code, and documentation of processes. In 2019, the OSF grew by 66,000 registered users, a 35.6% increase over 2018 and a strengthening signal that the global open science movement continues to shift research communities and practices towards greater transparency and reproducibility.
Here's what transparency and rigor looked like for the OSF community in 2019:
13,694 registrations uploaded to the OSF, a 34.5% annual increase


989,571 files shared publicly on OSF storage (excluding add ons), a 47% growth in 2019


112% increase in uploaded preprints — 26,143 in 2019 — across

OSF Preprint services


16.3 million files downloaded from the OSF, a growth of 148% since 2018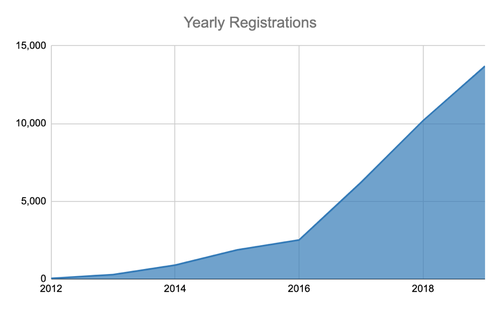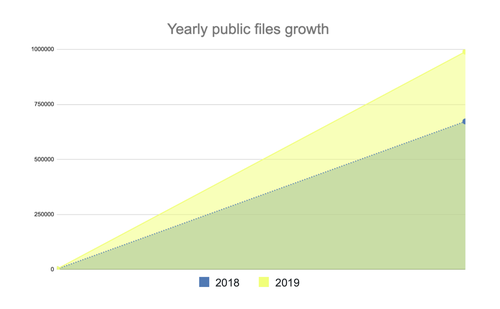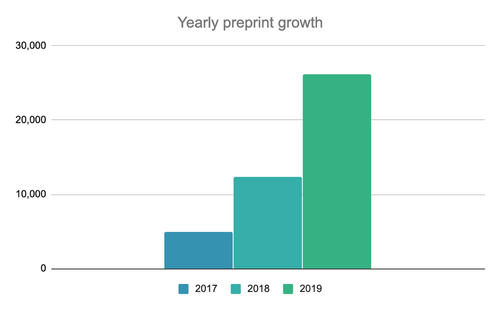 The increase in uploaded registrations, preprints, and files show a growing body of open scholarship; and, one that is being matched by a steady stream of unique visitors and file download rates—indicating that the research being shared is also being discovered and utilized by research consumers.
COS is encouraged by the volume of open materials and data both contributed and accessed in 2019. Since 2016, OSF has received over 1.5 million unique visitors.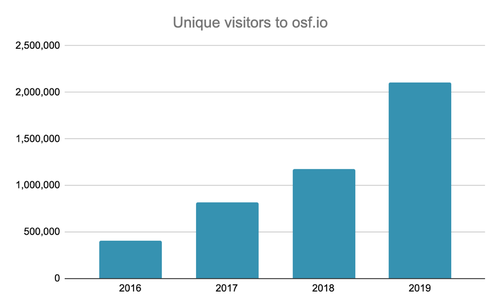 COS also celebrated the release of several major product enhancements in 2019 that helped improve efficiency and discoverability for the OSF user community. Take a minute to read more about the improved registration overview page and editable metadata along with the release of endorsements through Plaudit on OSF preprint servers.
Looking ahead, our 2020 product development goals are oriented around improving the functionality and workflows the OSF community relies on every day. Here's what you can look forward to:
New Files page redesigns will provide a more intuitive interface while improving speed and performance.


Soon users will have the ability to add "groups" through a streamlined contributor workflow, providing a more efficient process of adding the same collaborators to multiple projects.


An updated registration workflow will allow users to create a registration without needing to first create a project.


Community groups will soon have the option to customize registries to meet the standards of their discipline through

branded registries. Branded registries allow communities to set guidelines and determine which content is acceptable for the registry through submissions moderation.


COS is

collaborating with Internet Archive

to maintain an infrastructure that preserves open data and research for perpetual access, redistribution, and reuse. We will soon begin transferring registrations to Internet Archive as part of our commitment to OSF users to provide long-term data preservation for their uploaded materials.
We extend our gratitude to those who conduct research openly on OSF so that others may gain insights into processes and build on existing findings. OSF users are contributing to an open and robust exchange of knowledge that stimulates scientific progress, and we look forward to continuing to support the community's efforts by investing in an efficient user experience.
---
OSF is free to use, but it's not free to build or maintain. If you have benefitted from OSF, consider supporting open science through a donation of any amount. Your gift allows COS to continue improving OSF, expanding features, and creating new services to positively impact the scientific community.