COS is pleased to announce the new Open Scholarship Knowledge Base (OSKB), a free public repository of open practice learning resources and training materials to support researchers in every discipline and across all stages of the research lifecycle.
A centralized knowledge base for quick discovery
The OSKB is a community-led initiative to aggregate open practice education resources. It aims to solve the disjointed discovery journey often experienced by research stakeholders searching for up-to-date information about transparent and reproducible best practices in their fields.
And now with the current shift to online instruction, we recognize the importance of open educational resources for the research community more than ever before.
Open scholarship educators and collaborators can now quickly point to the comprehensive knowledge base as an easy, accessible resource for their students, colleagues, and institutions. Each resource is carefully reviewed, edited, and curated by the OSKB community to reduce the amount of labor often required of individual instructors and institutions working to promote new norms and techniques in their research areas. The OSKB bypasses these time constraints and accessibility barriers that impede awareness of open practices or slow the rate of adoption.
The OSKB infrastructure collates a diverse collection of open scholarship resources, curates them by discipline and practice, and leads visitors on an easy modular-based discovery path to assist in locating instructional materials most relevant to them.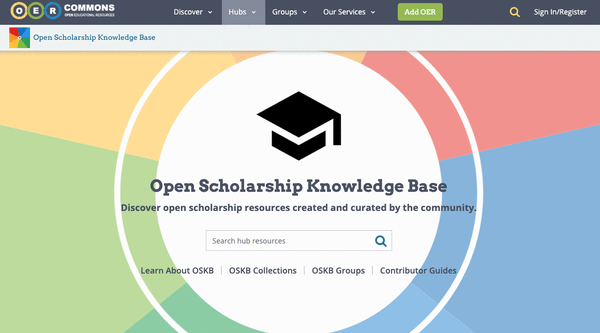 An inclusive, sustainable model
The OSKB's community-managed structure allows researchers from all disciplines to participate as contributors, reviewers, or editors in their fields. Anyone may join the community by registering with a "Group" of their discipline or choosing, which serves as a collaborative committee that assesses content gaps or elicits engagement from its research community. Active community groups include educators, funders, librarians, policymakers, publishers and researchers.
Development of the OSKB is backed by the Center for Open Science through the support of the Fetzer Franklin Fund and DARPA's Next Generation Social Science, but the initiative is entirely spearheaded by volunteers from the open scholarship community. This allows the OSKB to remain a living hub that will grow and host robust resources for any and all disciplines for years to come.
How to use the OSKB
Navigate to https://www.oercommons.org/hubs/OSKB. From there you can browse resource collections, join a user group or subcommittee, or explore ways to contribute.
Resource collections are broken down by pillar topics, such as Analysis, Reproducibility, Publishing, etc., and are further discoverable by filters like material type, language, education level, and more — as well as through keyword searching.
See a content gap? Navigate to the contributor guides to learn how you or your colleagues can add an existing resource or author a new content piece. And finally, share the OSKB with your peers, students, or collaborators who have questions about open scholarship or how to begin applying best practices.
"The OSKB volunteers are excited to share this new resource with the community. It will only get better with more curators and more content authors, so we are really excited about how the OSKB will evolve and grow! It would not have been possible without the creativity and teamwork of the volunteers, as well as the great many who joined our events and calls-to-action to review, advise, and give feedback along the way," said April Clyburne-Sherin, reproducibility consultant and contributor to the OSKB.
COS wishes to thank the volunteer collaborators who worked tirelessly to gather and review the scope of materials currently hosted on the OSKB. We are grateful to partner with like-minded individuals working to reduce barriers to entry for anyone working to promote, understand, and apply transparent and open practices throughout the research lifecycle.
---