Charlottesville, VA – The Transparency and Openness Promotion (TOP) Guidelines Advisory Board welcomes its new chair, Sean Grant, and board members to support its mission to promote transparency across the research lifecycle.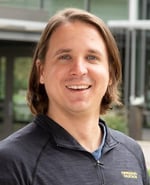 Grant is a Research Associate Professor at the HEDCO Institute for Evidence-Based Educational Practice at the University of Oregon with extensive experience researching TOP as Co-Principal Investigator for Transparency of Research Underpinning Social Intervention Tiers (TRUST) Initiative and implementing TOP as the Methodological Transparency Editor of the Journal of Research on Educational Effectiveness. He is also a member of the Project Executive for the CONSORT Statement for Social and Psychological Interventions (CONSORT-SPI) and a faculty member on the BITSS Research Transparency and Reproducibility Training.

"It is truly an honor to be approached for this opportunity. The TOP Guidelines have become a seminal conceptual framework for the open science movement," said Grant. "I am excited to work with the Advisory Board this year to consider revisions to TOP, extensions of TOP for organizations beyond journals, and tools to facilitate TOP implementation."

In addition to Grant, new Advisory Board members are:
Elaine Toomey, Lecturer, School of Allied Health, University of Limerick
Haley Hazlett, Acting Program Director, Declaration on Research Assessment (DORA)
Iain Hrynaszkiewicz, Director, Open Research Solutions, Public Library of Science (PLOS)
Scarlet Galvan, Collection Strategist Librarian, Grand Valley State University Libraries
Erin McKiernan, Community Manager for the Open Funders Research Group, SPARC, and Professor in the Department of Physics, Biomedical Physics Program at the National Autonomous University of Mexico
The Advisory Board leads outreach and engagement of the adoption and implementation of the TOP Guidelines by facilitating education, communication, and outreach efforts, assesses the Guidelines' effectiveness, and incorporates feedback from stakeholders to enhance their quality.

Published in 2015 by the Center for Open Science (COS), TOP is a policy framework for journals, publishers, and funders of scientific research that sets clear standards for empirical research dissemination. Covering practices, from data transparency to replication research and Registered Reports, TOP provides a roadmap for improving the credibility of scientific results.
###
About the Center for Open Science (COS):
Founded in 2013, COS is a nonprofit organization with a mission to increase openness, integrity, and reproducibility of scientific research. COS pursues this mission by building communities around open science practices, supporting metascience research, and developing and maintaining free, open source software tools, including the Open Science Framework (OSF).

Contact: Alexis Rice
alexis@cos.io or (434) 207-2971